---
---
---

Features
Take a trip to the amazing 10255 Assembly Square, developed to celebrate ten years of LEGO® Modular Buildings, featuring a wealth of unsurpassed, intricate details and hidden surprises. Easy-to-remove building sections provide access to the highly detailed interior, comprising a ground level with a bakery, florist's shop and café, a middle level with a music store, photo studio and dental office, and an upper-level dance studio and apartment with access to a rooftop terrace with barbecue. The exterior of the building features a detailed sidewalk with outdoor café furniture, fountain, streetlamps and a highly elaborate facade with beautifully detailed windows and doors, three buildable shop signs, spired tower and a decorative roofline. Collect and build an entire town with the LEGO Creator Expert Modular Building series 10243 Parisian Restaurant, 10246 Detective's Office and 10251 Brick Bank. Includes eight minifigures and a baby figure.
Includes eight minifigures: a dentist, barista, baker, florist, music store assistant, dancer, photographer and a LEGO® fan, plus a baby figure.
The three-level Assembly Square features an authentic, elaborate facade with detailed windows and doors, three buildable shop signs, spired tower, decorative roofline and a rooftop terrace, plus a detailed tiled sidewalk with a fountain, outdoor café furniture and two streetlamps. The highly detailed interior includes a bakery, florist's shop, café, music store, photo studio, dental office, apartment and a dance studio.
Ground level features a bakery with counter, cash register, shelves, opening oven, wedding cake and assorted buildable pastries and treats; a florist's shop with counter, cash register, garden tools, flower arrangements, bouquets and a blue and yellow macaw parrot element; and a café with espresso machine, counter, bench seating and pie elements.
Middle level features a music store with a buildable drum set, two guitars and saxophone element; photo studio with buildable classic camera and adjustable tripod; and a dental office with buildable reclining chair, waiting area, telephone and a sink.
Upper level features a dance studio with buildable piano and reflective mirror element; an apartment with buildable foldout sofa bed, detailed kitchen, toilet, micro LEGO® train, modular buildings and Eiffel Tower, and access to a rooftop terrace with buildable barbecue, table and a neglected plant.
Accessory elements include a ballerina skirt, Chihuahua, pretzel, ornamental chicken and candy. Also includes a buildable telephone, grill, baby carriage and buildable lamps.
Remove the building sections to access the detailed interior.
Adjust the camera tripod and take photos all around the square.
Recline the dentist chair and reveal those pearly whites!
Open the oven door to remove your freshly-baked pastries.
Fold out the sofa bed and relax while you admire your modular buildings collection!
Celebrate Modular Buildings with this awesome 10th anniversary LEGO® Creator Expert set!
This set offers an age-appropriate build and play experience for ages 16+.
With over 4,000 LEGO® pieces, this model will really put your LEGO® building skills to the test!
New-for-spring-2017 decorated elements include a dentist torso, dentist window and 2x3 tile with the 10182 Café Corner box front.
Includes lots of curved and corner angle tiles, garage doors used as box windows and LEGO® Technic excavator scoops used as roofing elements.
Collect and build an entire town with the LEGO® Creator Expert Modular Building series 10243 Parisian Restaurant, 10246 Detective's Office and 10251 Brick Bank.
Measures over 13" (35cm) high, 14" (38cm) wide and 9" (25cm) deep.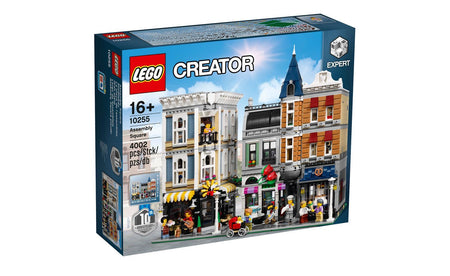 ---
---
Best and biggest build
I really loved building the Assembly Square. It was my first modular build and I plan adding many more to my collection. The details were incredible and design was amazing. I highly recommend this build to anyone who wants a big build to keep them busy and just enjoy every minute of it.
Amazing
I bought this for my son'a 11th Bday and he loved it. kids can be very creative!
Ranked the best modular for a reason!!
What a great find! The detail is amazing. Such value for money. 2 Buildings, 3 sections, 3 storeys, 7 businesses, an apartment and outside barbeque area. This is such a great set to rebuild as well as make your own creation. Bonus there are at least 2 alternative builds on Rebrickable. Absolutely loved building it and it makes a great display item. I am now hooked, Bookstore next! Which matches beautifully.
Best modular ever..?
Assembly Square was easily my favourite modular build. The sheer size of the building along with the intricate details throughout the build is exquisite! Each and every floor space is beautiful from the bakery to the real mirror in the ballet studio to the neatly placed alleyway between the flower and coffee shops.
A truly wonderful way to spend your weekend!