---
---
---

Features
Bring the Minecraft® game's iconic red barn into the real world with LEGO® Minecraft The Red Barn (21187) and give kids aged 9 and over a hands-on toy that all Minecraft players will admire.
Opens up for creative adventures inside and out
Outside the barn there are vegetables to grow, including potatoes that lift from the ground at the turn of a knob. There are also animals to care for: cows, a horse, goat and a chicken. But, when a baby zombie takes the chicken for a ride, players must help the rancher defeat it before it causes harm. The hinged barn opens up to give kids easy access to more play space inside, where they will find a bedroom, stables for the horse and goat, animal pens, a crafting box and tools. When the day's adventures are over, the impressive building looks great on display in any Minecraft player's room.
Iconic Minecraft® barn – With LEGO® Minecraft The Red Barn (21187), kids can build a classic Minecraft structure in the real world, packed with characters and features from the game
Popular farm characters – The playset contains a rancher, jungle villager, goat, chicken, cow, calf, horse and a baby zombie, who causes mischief as a chicken jockey
Opening barn maximises play space – There are farm animals and crops to tend outside and the hinged barn opens up to give kids easy access to more play possibilities inside
Gift idea for Minecraft® players – This inside-and-out, play-and-display LEGO® Minecraft set makes a versatile birthday, Christmas or any-day gift for kids aged 9 and over
Many ways to play – Measuring over 14 cm (5.5 in.) high, 26 cm (10 in.) wide and 24 cm (9.5 in.) deep, this reconfigurable set is bursting with play possibilities
Accessories to inspire imaginative play – Includes wheat, apples, a shovel, carrot, egg, axe, chest and a bucket of milk
Minecraft® made real – LEGO® Minecraft sets give kids a different way to enjoy the video game, with characters, scenes and features brought to life with the hands-on creativity of LEGO bricks
Quality guaranteed – LEGO® components fulfil stringent industry quality standards to ensure they are consistent, compatible and connect and pull apart perfectly every time
Safety assured – LEGO® components are dropped, heated, crushed, twisted and analysed to make sure they satisfy rigorous global safety standards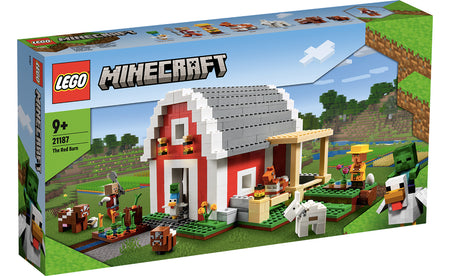 ---
---