---
---
---

Features
Kids aged 6+ will be excited to learn all about the fantasy action world of LEGO® NINJAGO® through building and playing with Lloyd's Mech Battle EVO (71781). The playset features 2 posable mechs, both armed with cool weapons, so kids can stage gripping battles. Kids can upgrade Lloyd's mech with golden armor and wings to help him triumph.
The best toys for kids – with an extra reward!
This LEGO NINJAGO battle set comes with 2 minifigures: Golden Lloyd and his enemy Bone Warrior, who can both ride in the cockpits of their posable mechs to fight epic battles. For succeeding in their challenge, kids are rewarded with a collectible Resilience banner.
A fun digital experience for LEGO fans
Let the LEGO Builder app guide you and your child on an easy and intuitive building adventure. Zoom in and rotate models in 3D, save sets and track your progress.
Ninja battle toy – Kids aged 6+ can enjoy imaginative play and endless ninja battles with this LEGO® NINJAGO® Lloyd's Mech Battle EVO (71781) playset
2 minifigures – This NINJAGO® set comes with 2 minifigures: Golden Lloyd with a golden sword, and Bone Warrior armed with 2 shurikens, so kids can stage all-action clashes
Upgrade the mech – Kids can upgrade Lloyd's mech with golden armor and wings to help it take down Bone Warrior's mech, which is armed with a large weapon and a hat that can be used a shield
Collectible banner – When kids succeed in their challenge and win the battle, they are rewarded with a Resilience banner to display from a pole on Golden Lloyd's mech
More ninja action – Look out for Cole's Earth Dragon EVO (71782), Kai's Mech Rider EVO (71783), Jay's Lightning Jet EVO (71784) and other sets in the LEGO® NINJAGO® range
Build and play – This 223-piece playset lets kids aged 6+ build as they play out adventures in NINJAGO® City and can be given as a birthday present or everyday gift
Display and play – Standing over 7 in. (18 cm) tall, this mech toy can be displayed by kids in their bedrooms between quick play sessions
A new way to build – The LEGO® Builder app guides kids on an intuitive building adventure. They can save sets, track their progress and zoom in and rotate models in 3D while they build
Quality guaranteed – For more than 6 decades, LEGO® bricks have been made to ensure they connect easily every time
Always in safe hands – LEGO® building bricks meet stringent global safety standards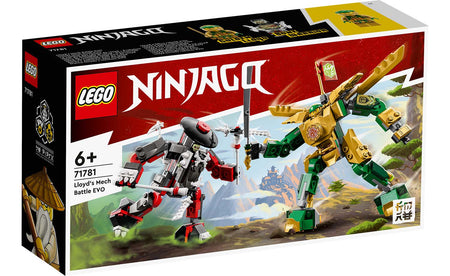 ---
---
happiest kid ever
When you guys said 2 days you meant it.....thanks from the bottom of my heart, my son was blown away and i didn't have to drive out of my way to take him to the toy store that may or may not have had what he was looking for.
Lego Ninjago
The overall design is good and my son had a fun time building. Stellar Customer Service! Quick delivery.