LEGO® Certified Stores E-Gift Cards. Cool to give. Great to Get.
Buying a card takes just a minute and provides unlimited excitement for your friends and family. Spread the awesome.
LEGO Certified Store E-Gift Card
An electronic card sent within 24 hours – when you need it fast! Our E-Gift cards are available for online shopping only at greatyellowbrick.co.za. Unfortunately, these E-Gift cards cannot be used in-store at a LEGO® Certified Store.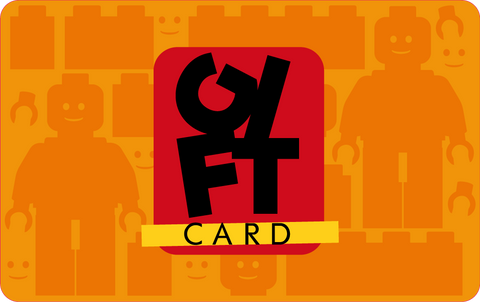 ---
Frequently Asked Questions
1. Shop to your heart's content at greatyellowbrick.co.za
2. When you check out, enter the unique coupon code at checkout from your online E-Gift Card. The amount required for your purchase will be deducted at check-out, and if you have some left over, the balance will remain on your E-Gift Card for your next visit.
If the balance available on the E-Gift card is less than the order total, you will be prompted to choose a second payment method for the balance before placing the order.
If you want to buy a gift card for someone else, then they need to forward the E-Gift card email to the recipient once you receive it in your inbox.
Yes. You can redeem another E-Gift card during checkout.
You can check your balance at anytime by using the link provided in the E-Gift card email.
No, you can't reload a gift card.
No, you can't use a gift card to buy another gift card.