---
---
---

Features
An advanced LEGO® Creator Expert Modular Buildings set bookshop with adjoining town house packed with surprising details and unexpected features that teenagers and adults will enjoy building and displaying with pride.
This big 3-story LEGO® set features so many details, including a display window, bookshelves, reading nook and living spaces in the town house. 5 minifigures also help to really bring this collectors' toy to life.
This set is part of the Modular Buildings series – an ever-growing collection of interconnecting model toy buildings that combine to create amazing street scenes that builders and collectors love to own and display.
With 2,504 pieces, this LEGO® building set for adults and teenagers makes an inspirational birthday, Christmas or special-occasion gift.
Measuring over 11" (29cm) high, 9" (25cm) wide and 9" (25cm) deep, this buildable model makes for an impressive display piece on its own or as part of a larger Modular Buildings series street scene.
No batteries required... this advanced building set runs on the pure power of imagination and creativity.
With colorful, step-by-step building instructions, this advanced set offers a rewarding building experience, whether you're building alone or sharing the experience with a loved one.
LEGO® Creator Expert modular house toys immerse teenagers and adults in challenging builds based on things they're passionate about, including classic cars, authentic buildings, fairground rides and much more.
Since 1958, LEGO® bricks have been tested to the highest industry standards to ensure consistency and compatibility, and that they connect and pull apart easily every time.
At the LEGO Group, we drop, heat, crush, twist and analyze LEGO® pieces to make sure every building set meets the highest global safety and quality standards.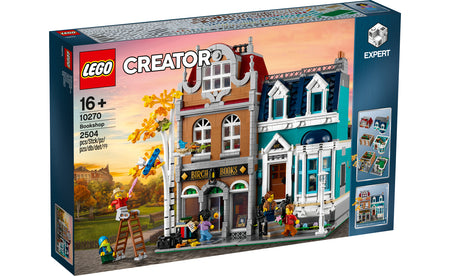 ---
---
Bookshop
Excellent buy!!! Worth every cent!
Worst modular ever...?
I am a stern, modular fan picking one up each year on the date of release. I must admit that seeing the pre-released pictures of this didn't incite any glee within me and going through the build experience wasn't much better.
The details usually found in other modulars (see Police Station, Assembly Square, Parisian Restaurant, et al) were all missing: starting with the bookshop that housed no books and a townhouse that had little to no character.
If I wasn't such a staunch fan of the series, I would have and SHOULD have giving this one a miss.