---
---
---

Features
Imagine spending quality time at a luxurious hotel. Where every detail is carefully considered. Where every guest's request is met in style. Now you can build your own hotel getaway with this LEGO® Boutique Hotel (10297) model building project for adults.
Surprises around every corner
Enjoy hours of immersive building as you craft the model's 5 sections. With unusual triangular geometry and elegant decor, it's inspired by opulent turn-of-the-century European architecture. Build the guest rooms and penthouse suite, lobby, terrace and staircase. Then explore all the stories packed within, including fun tributes to other models in the LEGO Modular Buildings collection. With 5 sections, including the roof with its decorative dome and skylight, plus never-seen-before elements and colours, it's sure to delight adult builders.
Welcome to your zone
Build creativity. Build concentration. Build your own architectural masterpiece. This set is part of collectible LEGO building sets for adults.
A build for adults – Spend quality time crafting all the details of this LEGO® Boutique Hotel. With glamourous decor, it's a tribute to turn-of-the-century European architecture
Architectural details – With 5 sections, this buildable model features a wealth of design details and triangular geometry, plus highly decorated facades and interior
So much to build – Lose yourself in this hands-on project as you build the hotel's guest rooms, penthouse suite, lobby, terrace and staircase, plus the neighbouring art gallery and coffee cart
Packed with stories – The build is just the start. Have fun discovering all the adventures unfolding within the hotel in this model from the LEGO® Modular Buildings collection
Celebrating 15 years of LEGO® Modular Buildings – Many adult LEGO builders will appreciate all the fun references to previous modular builds. Try to spot them all
Includes 7 minifigures – Characters include a hotel porter, receptionist, coffee vendor and gallery owner among the collection of hotel guests and staff
 Dimensions – This display model measures over 13 in. (33 cm) high, 10 in. (25 cm) wide and 10 in. (25 cm) deep
A project for adults – This LEGO® set is part of a range of building sets designed for adult building fans who love stunning design, intricate details and elegant architecture
Quality materials – LEGO® building bricks are manufactured from high-quality materials. They're consistent, compatible and connect and pull apart easily every time – it's been that way since 1958
Safety ensured – With LEGO® pieces, safety and quality come first. That's why they're rigorously tested so you can be sure that this hotel model is safe and robust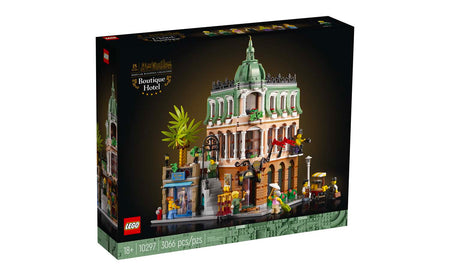 ---
---
Life changing experience
This build has changed my life forever!!!!
Cleaver build
This is my third modular build, loved all the angles and the little builds in this set. It was also perfect due to the fact that it had no stickers, all print pieces. Loved all the little stories for the minifigs and all the cool Easter eggs to past modular buildings. I did not love building with the flesh coloured blocks at fist, but put all together really makes the building and reminds me of the of buildings I have seen on my travels to Europe. Awesome build, loved every min of it!
Stunning Building
What a clever design and full of clever details. A great build experience.
Great addition to my modular city
This is my 5th Modular and a great build experience.
I love all the little details and humour in the piece.
The details are amazing and if I have to split hairs, I find the art gallery a little too small.
The facade is really interesting though - unlike the police station that tends to be a bit repetitive, flat in the front. So it especially works in the city set-up.