---
---
---

Features
Ready for a night of big band music, jazz dancing and pizza? The LEGO® Icons Jazz Club (10312) is your ticket to the best show in town. Fans of modular buildings and music lovers will adore constructing their own jazz venue with this building set for adults, which involves new building techniques such as a 45-degree doorway. Once the club is complete, you can spend hours marvelling at its beautifully decorated interior, where you'll discover a jazz stage, a pizzeria and the band's dressing room.
Make new friends at the club
8 detailed minifigures, including a jazz singer, bassist and drummer, set the scene for a show that will have the audience on their feet all evening. Intricate details include a mini microphone, a mini saxophone and a mini LP record.
Set the stage for creativity
This set is part of a range of collectible building sets for adults who appreciate mindful projects and exceptional design.
Set the scene for creativity – Construct and display a detailed LEGO® Icons Jazz Club (10312) with a building project for adults that encourages mindfulness and creativity
A club for cool cats – This building set is packed with detailed sections, including a pizzeria, a tailor's workshop and the jazz band's dressing room
Part of the LEGO® Modular Buildings Collection – Module connectors on the side make it easy to slot the club into your other modular builds (available separately) and expand your LEGO world
A gift for music lovers – Musicians and music lovers will enjoy building their very own LEGO® Icons Jazz Club to display proudly alongside their record collection
Make new friends – Characters include a jazz singer, drummer and bass guitarist with accessories. The set also features decorated elements: no stickers required
 Digital building instructions – The LEGO® Builder app features a digital version of the building instructions included with this set
A project for adults – The LEGO® Icons Jazz Club is part of a range of building sets designed for adults who love exceptional designs, intricate details and beautiful architecture
Dimensions – This product measures over 30 cm (11.5 in.) high, 25 cm (10 in.) wide and 26 cm (10 in.) deep
High-quality project – LEGO® building bricks are crafted from high-quality materials and meet stringent industry standards; they've been consistent, compatible and easy to connect for over 60 years
Safety ensured – LEGO® bricks and pieces have been rigorously tested to meet strict global safety and quality standards, so you know you're safe with LEGO building sets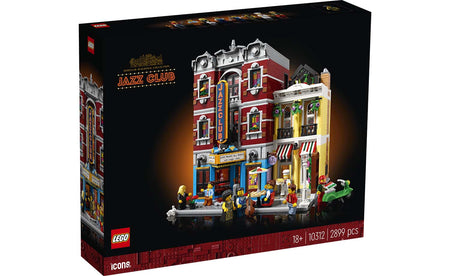 ---
---
Another great addition!
This was another great addition to the line of modular buildings. The build experience is fun, as is the finished building.
Jazz Club
What a fabulous build, I am LOVING it. The designer has put much thought into it and I love the little descriptions of the people in the book too.