---
---
---

Features
Celebrate the unmistakable style of Porsche with this fantastic building challenge as you create your own classic, collectible car with the LEGO® Porsche 911 (10295) model kit. Choose to build either the Turbo model with its turbocharged engine or the Targa with its iconic Targa bar and a removable roof that stores under the hood.
Build your favorite Porsche 911
Both the Turbo and the Targa model cars feature authentic Porsche 911 details like the iconic front and rear bumpers, angled headlights, printed logo and number plates. And the interior is just as impressive with working steering, gearshift, emergency brake, tilting seats and a dark-orange-and-nougat color scheme.
A building project for you
The LEGO Porsche 911 is part of a collection of buildable model kits for adults. From classic collectible cars to detailed buildings, these LEGO sets are the perfect way to escape everyday life with an immersive building project.
Escape from the everyday with this thrilling building project. The LEGO® Porsche 911 (10295) model car building kit is the perfect set for adults looking for their next hands-on project.
Explore all the Porsche 911 features including the rear-mounted, air-cooled flat-six engine, working steering, gearshift, emergency brake and tilting seats.
Which will you choose to build? The Turbo model with its turbocharged engine or the Targa with a removable roof that can be stored under the hood.
The Porsche 911 Turbo model car features a wide rear axle, an integrated spoiler, plus a turbocharged engine complete with intercooler.
The Porsche 911 Targa model car includes a removable roof that fits in the hood plus the iconic Targa bar with rear glass behind the driver.
Designed especially for classic car fans and Porsche enthusiasts, this advanced building kit comes with coffee-table-style instructions with inspirational design details.
This Porsche 911 collectible car model measures over 4 in. (10 cm) high, 13.5 in. (35 cm) long and 6 in. (16 cm) wide.
Looking for the best gift for a classic car fan? This Porsche 911 collectible buildable model kit is a great choice. It's designed especially for adult LEGO® fans who appreciate stunning design.
LEGO® building bricks are manufactured from high quality materials. They're consistent, compatible and connect and pull apart easily every time – it's been that way since 1958.
With LEGO® pieces, safety and quality come first. That's why they're rigorously tested so you can be sure that the model is as robust as it is beautiful.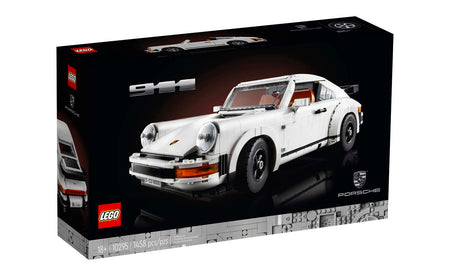 ---
---
Cheaper than a midlife crisis!
A great addition to my mums lego car collection!
Amazingly Detailed
Easy to build if you follow instructions. Amazing detail.
Unbelievable Lego Set
I thoroughly enjoyed build this set. Everything just went to smoothly into place and it was great to see the Porsche come alive piece by piece. I highly recommend to add to your collection!
Greatest LEGO Porsche set ever?
Granted I do not own the LEGO Technic 42056 GT3 RS set (greatyellowbrickZA you can change that if you want to please :), but in my opinion this is the greatest LEGO Porsche set that exists. Beautifully captures the shape of the 930 Turbo, I have not yet built the Targa but will do so if I ever grow tired of the Turbo's hips, which is actually unlikely.
The build of the seats was particularly detailed. The detail of the intercooler in the engine bay was amazing. The folding seats, and the moving gearlever and handbrake was unexpected to say the least. The steering column and rack was mind-blowing in a non-technic focused set.
The other reviews mention difficulty with step 280 to the extent that they could not move on. I do not agree with this because I just finished my Turbo 930 build. Yes I did experience some difficulty initially but do remember this is an 18+ set so some of the connections are only 1 or 2 studs strong and thus a bit delicate before additional bracing is added in later steps. So when attaching the windscreen my dash and one part on the center console did dis-attach I was able to re-attach the dash panel and part of the center console before moving on.
Overall this set is a must have for all Porsche and classic car enthusiasts, I would go as far as to say anyone obsessed by industrial design should get or is already considering this set!
Step 280
Same problem - cannot get past step 280- it just unclips the rest of the pieces when you try to clip the windshield in