---
---
---

Features
Thrill kids aged 9 and up with this LEGO® Monkie Kid™ recreation of Monkie Kid's Team Hideout (80044). This toy playset features 9 modules that can be endlessly reconfigured. The hideout has lots of play starters for unlimited fun, including a multi-shooter launcher, a liftable roof that reveals a hidden shooter and more.
Bring new stories to life
The set includes special decorative stickers and 6 minifigures, including new-for-January-2023 versions of Monkie Kid and Mei, original versions of Pigsy and Sandy, Lee the Panda stall keeper and The Golden-Winged Eagle, plus Mo the cat LEGO figure. Give your child an easy and intuitive building adventure with the LEGO Builder app. Here they can zoom in and rotate models in 3D, track their progress and save sets while they build.
Create new legends
Collectible LEGO Monkie Kid creative gifts are inspired by the classic Journey to the West novel and are a way for adults to share the Monkey King legend with children in a modern and playful way.
Inspired by legendary tales – This detailed model (80044) lets children and families create modular settings and reimagine legendary stories together in LEGO® Monkie Kid™ style
6 LEGO® minifigures – Monkie Kid, Mei, Pigsy, Sandy, Lee the Panda stall keeper and The Golden-Winged Eagle, plus weapons, an erhu (Chinese violin), a hidden treasure chest and Mo the cat LEGO figure
Modular village – Recreate and reconfigure the village, which includes Monkie Kid's hideout, Pigsy's restaurant, atemple, convenience store, Mei's blacksmith and much more
Play features – Lift the blacksmith's roof for more surprises. Discover the entrance behind the bamboo gate and find the small flyer hidden inside. Unfold The Golden-Winged Eagle's wings for posing
Gift idea for ages 9 and up – Give this 1,582-piece LEGO® Monkie Kid™ set as a birthday or holiday gift to trendsetting kids who enjoy epic adventure stories full of legendary characters
Play-and-display set – The buildable model measures over 10.5 in. (27 cm) high, 18.5 in. (47 cm) wide and 7.5 in. (20 cm) deep and encourages kids to build and play endlessly
A new way to build – Let the LEGO® Builder app guide your child on an intuitive building adventure with tools that let them zoom in and rotate models in 3D while they build
Extend the play – This LEGO® Monkie Kid™ set combines with The City of Lanterns (80036) set (sold separately) to enhance the modular fun and imaginative adventures that kids can invent and playout
Premium quality – Since 1958, LEGO® components have met strict industry quality standards to ensure that they connect consistently and strongly
Tested for safety – LEGO® building bricks and pieces are thoroughly tested to make sure that they comply with stringent global safety standards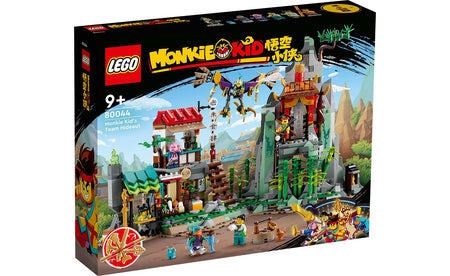 ---
---