---
---
---

Features
Build and display a LEGO® clone of one of the galaxy's deadliest bounty hunters with this Boba Fett Helmet (75277) model kit! It's a super LEGO Star Wars™ gift idea for adult fans and offers a testing challenge for experienced LEGO builders, with the familiar shape and authentic details of the helmet beautifully recreated using LEGO bricks.
Build to display
This LEGO Boba Fett collectible has a base with a nameplate to display it at home, in the office or wherever else you like in the galaxy. For extra building challenges, check out these other new-for-January-2020 LEGO Star Wars Stormtrooper Helmet (75276) model kit.
Star Wars action for all!
The LEGO Group has been creating brick-built versions of iconic Star Wars starships, vehicles, locations and characters since 1999. LEGO Star Wars has become a hugely successful theme, with a vast array of building sets to thrill fans of all ages, so why not get involved?
Pay homage to one of the most fearsome bounty hunters in the Star Wars™ universe and challenge your LEGO® building skills to construct this awesome Boba Fett Helmet (75277) memorabilia model for display.
The authentic details of the Boba Fett Helmet are beautifully reproduced with LEGO® bricks. Displayed on its base with nameplate, this model will spark memories of thrilling Star Wars™ scenes.
This Boba Fett Helmet is part of a range of collectible LEGO® Star Wars™ build-and-display models – also watch out for the Stormtrooper Helmet (75276).
The best birthday gift, Christmas present or special surprise for Star Wars™ fans aged 18+ and any experienced LEGO® builder, this 625-piece Star Wars Boba Fett Helmet offers a challenging construction project.
This LEGO® Star Wars™ Boba Fett Helmet measures 8.5" (21cm) high, 4.5" (11cm) wide and 4.5" (11cm) deep – it doesn't take up lot of space, but its striking details are sure to delight any Star Wars fan.
This cool, battery-free construction set for creative adults offers a stress-relieving, relaxing build. So, take time out, find your building Zen and construct a fantastic Star Wars™ character build-and-display model!
Thinking of buying this Boba Fett memorabilia for a Star Wars™ fan new to LEGO® sets? No worries. It comes with clear, step-by-step instructions so they can take on this complex building challenge with confidence.
LEGO® Star Wars™ construction sets are great for kids and adult fans to build and display the models, recreate classic Star Wars movie scenes and create their own exciting stories. There's something for everyone!
No need to use the Force to connect or pull apart LEGO® bricks! They meet the highest industry standards to ensure consistency and a perfect, easy connection.
LEGO® bricks and pieces are dropped, heated, crushed, twisted and analyzed to ensure that this LEGO Star Wars™ set meets the highest safety standards on Earth (and in galaxies far, far away!).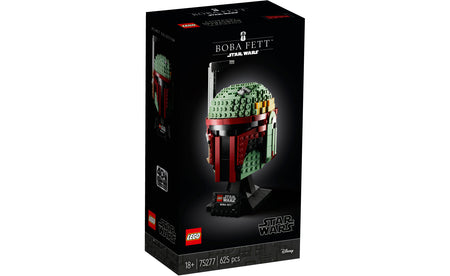 ---
---
THE FORCE IS STRONG WITH THIS BOUNTY HUNTER
Was a little sceptical about the build at first and the size, but after the first 2 packs I was hooked, will definitely be buying the rest soon haha. Also managed to add a bit of boba fett battle damage so looks a little more fun. Great buy
Great for displaying (my son
Great for displaying (my son is a Star Wars fan)
Great for display
Was a fun and easy to build, was a little smaller than I thought it would be but still a great set. Perfect for display